Graduation Almost
Holy crap. I wish I was like this:                                                                             
But really I am more like this: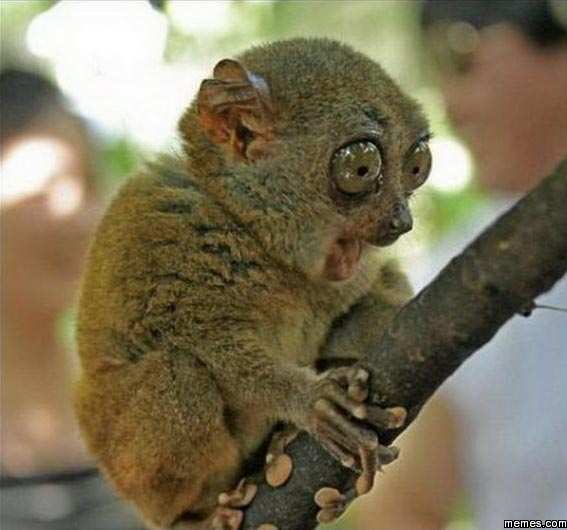 Like that little primate is how I feel on the inside. [Background: it's a nocturnal lemur, so it's not exactly the happiest little guy who be out in the motherf****ing daylight].
He's freaking the hell out.
Oh, wait. Me too.
I have 1 month, 30 days, 720 hours (=30days*24hrs/day),  4320 minutes (=720hrs*60mins/hr), etc, etc to figure out what the heck I am doing on May 7th – the day after graduation.
I wish I had some kinda of magic wand. Hell. Where's my fairy god mother?! I don't need a prince or a ball or a kickass dress. Just a freaking plan….maybe I need a crystal ball then not a magic wand, huh?
Like 'Marco-Polo', without the 'Polo'
It's like shouting into the darkness. It's cold and you can see you're breath. You're bundled up, but your finger tips are burning like fire form the frost. You shout "Macro". Warm vapors leave your mouth creating a tiny swirling cloud, but as quickly as it appears – its disappears. Your voice radiates through the world. Traveling even farther through the cold air. Although in return, you receive no reply. You're alone, and the lonely washes over you like the darkness already had. You surrounds immediately become even more unfamiliar as the lonely creates an isolation colder than the world around.
This is being lost in the world with no plan. You're looking for one. Calling out. Desperately trying to have some bearings, some idea that you're not alone in this. Although every admit to re-affirm you're not alone, only brings you more loneliness. More lost.
……
Okay, a little dramatic and dark. But I seriously have no idea. Everyone keeps telling me "it's going to be okay"
"You'll figure something out"
"You're just in transition form one phase to another."
But everyone else has more or less a plan, and I don't. I was supposed to be the girl who had a job straight out of college, was supposed to be getting engaged to her long term boyfriend, was supposed to be out in the world on my own not being dependent upon my parents. There were all expectations I set for myself, but still. They've all been destroyed.
I am alone. I have no job. I have no plan.
I'm a stereotypical lost college student.